The Digital Collections provide access to hundreds of images and documents digitized from the unique items in the Lloyd Sealy Library Special Collections. These materials are freely available to the public for learning, teaching, and research. The materials in our Digital Collections are especially well-suited for historical research of criminal justice, 20th- and 21st-century New York, the New York Police Department, and John Jay College of Criminal Justice itself.
The Lloyd Sealy Library has extensive holdings in the area of criminal justice and serves the John Jay College community and the world as a research collection. More collections will be added to our public online offerings as we digitize more items.
Development of the Digital Collections was made possible with the generous support of Lynn and Jules Kroll.
A history of digital projects at the Lloyd Sealy Library
The first digital project for the Lloyd Sealy Library was Crime in New York 1850-1950, directed by Ellen Belcher, Special Collections Librarian, and Ellen Sexton, Reference Librarian, with assistance from Bonnie Nelson, Associate Librarian for Information Systems. The Crime in New York 1850-1950 digital collection documented parts of the criminal history of New York City, providing open access to primary materials documenting nearly a century of investigation, arrest, judgment and incarceration of many infamous and unknown criminals in New York City. Specific collections represented included photographs from The Papers of Lewis E. Lawes and The Burton Turkus Papers, and the index to and selected transcripts from the Criminal Trial Transcripts of the County of New York 1883-1927. All of the materials were digitized in-house, with the exception of the trial transcripts' texts which was outsourced to iArchives. The project was funded by a grant provided by a New York Digital Libraries grant from the Metropolitan New York Library Council (METRO) through the New York State Regional Bibliographic Databases Program. More about the project can be read in Belcher & Sexton's 2008 article "Digitizing criminals: Web delivery of a century on the cheap" (OCLC Systems and Services, 2008, 24(2):116-132).
Following the initial success of Crime in New York 1850-1950, Special Collections librarian Ellen Belcher continued to digitize Special Collections materials, housing photographs and pamphlets digitized in-house on CUNY's DSpace repository, as well as collaborating with Internet Archive to digitize many rare books.
About the Special Collections
The Lloyd Sealy Library Special Collections hold unique material related to the mission of the Library and the mission of John Jay College. Materials are in published and unpublished form, including books, broadsides, pamphlets, prints, serials, and archival materials. The Special Collections welcomes in-person visits from John Jay students, John Jay faculty, and public researchers who wish to consult our collections. Please contact the Special Collections Librarian to arrange a research visit to our reading room or for more information about our materials.
Technical details
The current Digital Collections site was developed by Robin Davis, Emerging Technologies Librarian, with assistance from Bonnie Nelson, Ellen Belcher, and Ellen Sexton, in consultation with Openflows. The site uses a customized instance of the CollectiveAccess content management system. Digitized images are usually scanned as TIFF or JPEG2000 files, of which JPG derivatives are made upon ingest. We use unqualified Dublin Core standard for basic metadata. Search queries are specified by the Lucene search syntax.
Contact
Feedback concerning specific items in the Digital Collections can be sent from the item's page itself by clicking on the 'Contact' icon beneath the object's image window. For questions about the Special Collections as a whole, please email Ellen Belcher, Special Collections Librarian. For feedback about how the site works, please email Robin Davis, Emerging Technologies & Online Learning Librarian.
Highlights from the Collections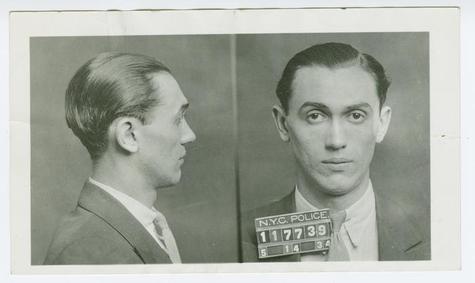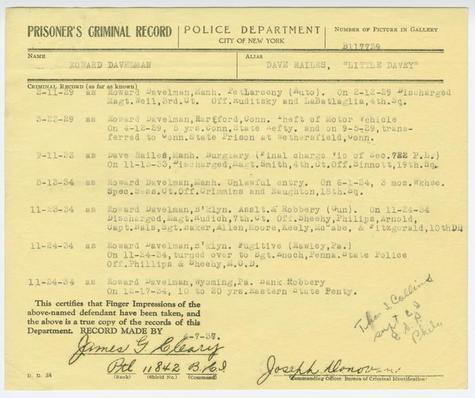 Mug shots and rap sheet of Howard Davelman, alias Dave Hailes, alias Little Davey
Davelman, whose mug shot was taken in 1934, had petty larceny, theft of a motor vehicle, burglary, unlawful entry, and assault & robbery on his criminal record. From the Burton B. Turkus Papers.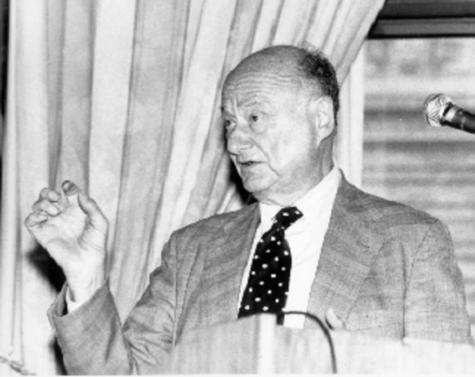 Oral history interview with Ed Koch
Jeffrey Kroessler and Larry Sullivan interview former New York City mayor, in 2008. Topics covered include the NYPD, its police commissioners, New York City's fiscal crisis, crime and race, crime in the subways, graffiti, Bernie Goetz, and Al Sharpton. Read and listen to other interviews in the Justice in New York: An Oral History collection. (Photo source: La Guardia and Wagner Archives, La Guardia Community College, CUNY.)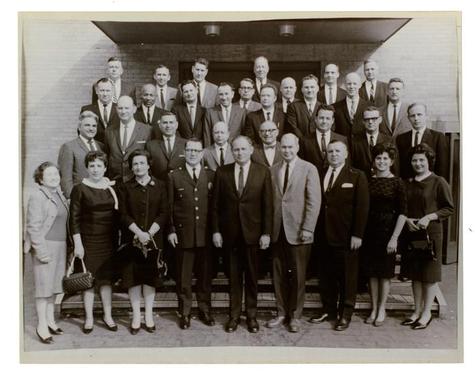 Original faculty of John Jay College of Criminal Justice
This photograph, taken in 1965, depicts the founding faculty at what was then called the College of Police Science (COPS).